Alf: Frozen Chaos
A downloadable game for Windows

NOTE: This game is still in development. The version of the game currently accessible is a DEMO version of the game. This version has the complete first world of the game as well as the first boss encounter. If you want to support the game, please leave a comment with feedback of the game! Any and all feedback is greatly appreciated as it helps the game improve.

Alf: Frozen Chaos is a game about an isolated alien general fighting both for his life and to avenge his fallen comrades. Collect all three gems to achieve the ultimate power and destroy the opposing Alf fleet once and for all.
After watching your comrades get obliterated by mercenaries hired by the Alf Insurgent General, the only thing you can do is try to complete the final campaign in the Alf Civil War, put an end to the conflict, and bring victory to the true Alfs.
The mercenaries who killed your friends were only after the power of the Gems of Power. And after they were stolen by those mercenaries, the only hope of victory is to track them down and retrieve the gems before it's too late. Only with the mystical powers of all three gems combined can the Insurgents be eradicated.


Intense, chaotic space combat: Endless waves of enemies are constantly attacking you from all sides in this fast-paced adventure. And with no one around to help you, you're on your own behind enemy lines. Dodge, weave, or just brute force your way through all of the Insurgents to secure victory.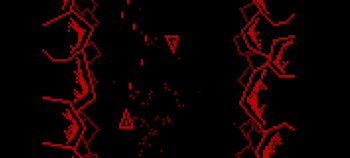 Ship Upgrades: Complete levels and unlock secret passageways to find the ship upgrades. Defeat the secret boss guarding the technology to upgrade your ship to the next tier. With two upgrades that completely change the game, keep your eyes open for those secrets.



Story: A classic revenge tale with a satisfying ending that will leave some puzzled, some enraged, and some complacent. With more story and lore being revealed every time you complete a zone, the story will unravel and plots will unfold.

Gems of Power: The mystical Gems of Power are artifacts that hold more power than anyone could hope of comprehending. Over many years, Alf scientists were able to collect a shard of all known Gems of Power that exist The Gem of Ice, which can stop the flow of time and give you some breathing room when overwhelmed, the Gem of Fire, which is capable of creating fiery explosives in space, and the Gem of Magic, which can create black holes that suck enemies inside.





Dynamic Music System: The music has a dynamic music system in which the music changes depending on whether or not you are using a gem and which gem you are specifically using at that time. This creates atmosphere and ambience that makes the game even more satisfying to play.



| | | |
| --- | --- | --- |
| Input | Keyboard/Mouse | Controller |
| Menu Navigation | Mouse/Arrow Keys + Z and X Keys | Left Control Stick + A and X Buttons |
| Skip Cutscene | Enter Key | Start Button |
| Pause | Escape Key | Start Button |
| Movement | Arrow Keys | Left Control Stick |
| Fire Laser | X Key | X Button |
| Use Gem | Z Key | A Button |
| Switch Gem | C Key | Y Button |
| Dodge | Shift Key | B Button |

1. Download .EXE File from Website
2. Move File to Program Files(x86) Folder (Or any other convenient place to put the game)

3. Launch .EXE File
4. Play The Game

Alf: Frozen Chaos is based on a very simple, primitive game jam game that can be found here: ALF: Frozen Chaos (Brackey's Game Jam Submission). Everything in this game: Art, Music, and coding was done completely by me from scratch. The art for this game was made using Aseprite and Piskel, most of the sound effects for the game were made in Audacity, the music for the game was made in Soundtrap, and all of the coding for the game was done in Clickteam Fusion 2.5 Developer. Sources of inspiration for this game include a short game I made in Python a year ago titled, Alf: Alien Insurgency, Gradius for the NES, Xevious for Arcades, the original Asteroids, Galaga for Arcades, and Galaxian for Arcades.
Alf: Frozen Chaos © 2021 All rights reserved.
| | |
| --- | --- |
| Status | In development |
| Platforms | Windows |
| Author | Mr. Yolo |
| Genre | Shooter |
| Made with | Piskel, Audacity, Aseprite, Clickteam Fusion |
| Tags | Arcade, Bullet Hell, chaotic, Difficult, Fast-Paced, Retro, Shoot 'Em Up, Space, Top down shooter, virtual-boy |
| Average session | A few hours |
| Languages | English |
| Inputs | Keyboard, Mouse, Xbox controller, Gamepad (any), Joystick |
| Accessibility | Subtitles, High-contrast |
| Links | Twitter |
Download demo